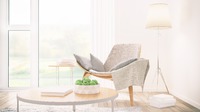 Another significant way we aim to bring about this change is to campaign: to raise our united voice and ask (demand) change from our industry and political leaders. Just look at Fast-Moving Consumer Goods companies. They have a key role to play in curbing over a third of global greenhouse gas emissions but face particular challenges because 90% of the sector's carbon emissions lie in the value chain, leaving companies exposed to raw material risks and product consumption risk. The proximity of the sector to consumers means companies are exposed to changes in consumer preferences, but also have the opportunity to drive behavior change in order to ensure the longevity of their brands. Despite this, more than half (56%) of Food & Beverage companies have no targets to reduce emissions in the supply chain. Household & Personal Care companies perform better, with just 29% having no targets.
Thus, the sector needs cooperation from politicians as well as CEOs, and we will be the driving force behind this movement. Some ways we will aim to achieve this is:
1) By reaching out to industry and company leaders, including retail chains;
2) By lobbying Parliament and MPs, using emails, letters, research information, and engaging them directly;
3) Engaging thought leaders to help our cause.
Keep an eye out for our news updates as well to see what we've been up to.